TIMET
Since 1950, TIMET has been leading the industry in mill and melted products, supplying nearly one-fifth of the world's titanium demand. 

TIMET is the only titanium manufacture with mill production strategically located around the world. We have broad product line capability and strategic qualifications at locations in North America, United Kingdom, and France.
We have a global supply focus that enables TIMET to quickly move products from one location to another using qualified raw material and routings that meet our customer's stringent requirements.
This capability improves TIMET's service and reduces customer risk. All of our plants are certified in the latest international safety and quality standards and strictly follow lean initiatives.
TIMET operates a fully integrated supply chain from raw material through mill product. TIMET independently manufactures 99.9% pure titanium sponge at our Henderson facility that is suitable for all grades of titanium. This raw material integration reduces dependency on foreign imports and provides supply chain stability.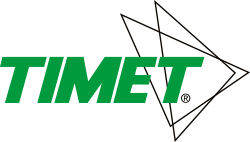 TIMET Headquarters
4832 Richmond Road, Ste 100
Warrensville Heights, OH 44128
(216) 910-0770
timet.com
Questions?
We're happy to answer any questions you may have.